INCOHERENT RANTS
this is basically where i write stuff about stuff i am definately Normal about!! it will probably be quite empty because i hardly ever have thoughts that are coherent enough to actually make them into words.

WHY GOOD OMENS IS NOT QUEERBAITING
Firstly, Neil Gaiman (one of the authors of the original book and the writer of the show) literally confirmed on social media that Aziraphale and Crowley are gay. Also if you just watch the fuckign show it is so clear that they are in love like ??? aaaaaaashfj????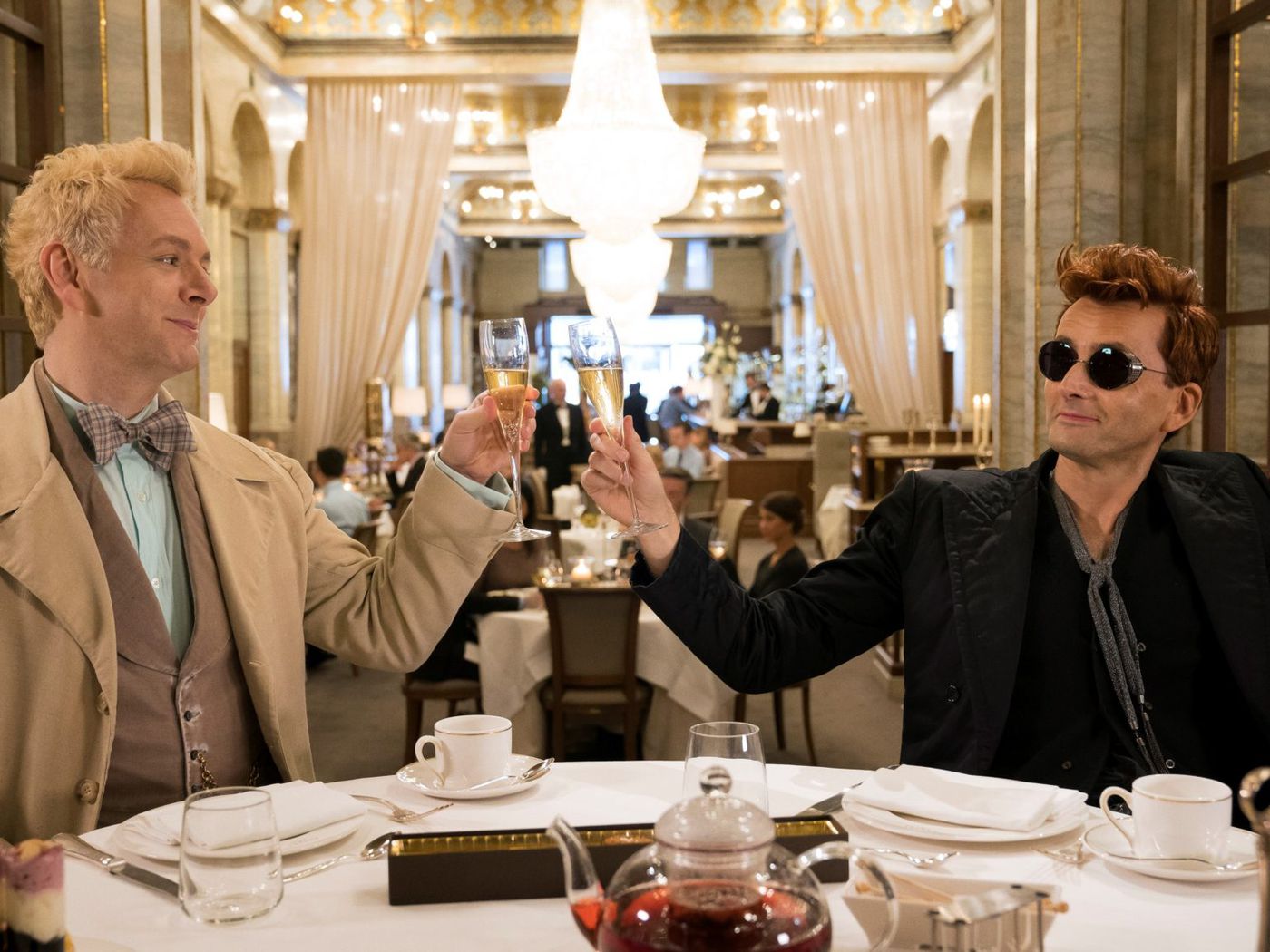 evidence of this . loOK AT THEM OAUGH
point two- NEIL GAIMAN SAID THAT THEY LIKE HOLDING HANDS . THEY . LIKE . HOLDING . HANDS . AUUUUHJHG. and also th. their WINGS are A HEART in the series two promo poster (shown below)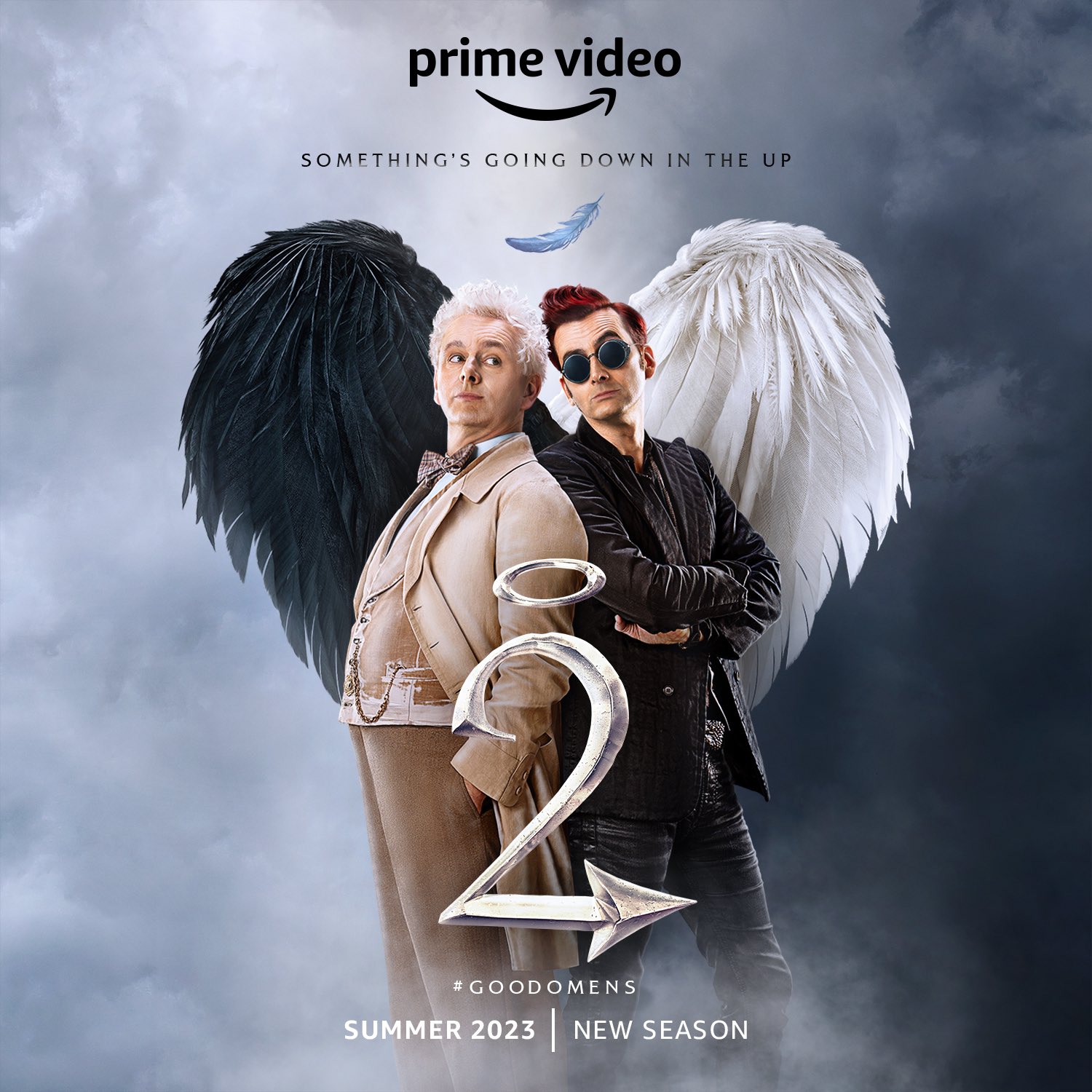 point two: just because they don't kiss in the show doesn't mean they're not in love?? physical affection isn't the only love language?? also I bet there are straight couples in shows that people are all like "oh they're so in love omg" when they never kiss??
so to summarise, y'all are stupid :)
i mean if any of you lot have watched season two it is . pretty clear that it isnt queerbaiting

A COMPILATION OF THINGS I HAVE SAID ABOUT GOOD OMENS SEASON TWO
WARNING: THIS CONTAINS SPOILERS FOR GOOD OMENS SEASON TWO. IF YOU HAVENT WATCHED IT AND DONT WANT TO BE SPOILED DO NOT READ
note: most of these are in chronological order other than the first one because that was a post i made on tumblr (there are two "i just finished.." ones because one was one i posted on discord and the otehr i posted on tumblr) !! also i just noticed how many times i have said "ough",
"ough it was when Crowleys car started playing a nightingale sang in Berkeley square that got me. the difference between their relationship at the end of season one compared to season two. "to the world" and "dont bother""
"just finished it and what the FUCK ."
"ough jsut finished go s2 and i . think i need a moment ,"
"ough i just remembered i kept thinking "divorcecore" from the teasers ("naked man friend" adn "im back . ") adn . "
"OUGH IF YOU WATCH THE CREDITS THERES THE BIT WITH AZIRAPHALE IN THE LIFT AND HE STARTED SMILING??? WHAT THE FUCK WHY WOULD HE DO THAT ☹️"
"my question is how the fuck did david and michael film that . there would have been multiple takes too" (referring to That scene)
"ok but one thing i absolutely loved in s2 for no reason was AZIRAPHALES FACE WHEN HE REALISED CROWLEY DIDNT ACTUALLY KILL THE GOATS LIKE . OOOUYHGHHGHHHHHHHH ,, "
"NO BC THAT WAS WHAT THE KISS WAS LIKE THOUGH BC IT WAS FORCED BY CROWLEY AND AZIRAPHALE EMJOYED IT BUT DIDNT RECIPROCAE ADM . IT WAS IMPORTANT TO THE PLOT . SOBBIG N " (reffering to a tumblr post that said "Dude. You have to kiss me. Yes it's important to the plot")
"also with the "i forgive you" vs "may you be forgiven is like . they have control over their lives now!! they arent dictated by heaven or hell which means aziraphale actively CHOSE to go back to heaven vs crowley who rejected going to hell without a single thought" (tags i made on a tumblr post about the difference between aziraphale saying "may you be forgiven" in season one vs him saying "i forgive you" in season two, honestly i have no idea where i was going with this)
"going insane over michael sheens acting btw . especially in that last scene like ,,"
"im actually obsessed woth pre fall crowley like he is the actual sweetest thing ever i love him ,,,, hes so happy about evrything and OUGH💗 😭 🫶 🫶 💗 "
"but one thing i noticed about the way that the methods that aziraphale and crowley had for trying to make maggie and nina fall in love reflecting the things they did was that . crowleys sudden downpour forces them under an awning etc. method is what happened in the past just after the garden of eden which was arguably when crowley fell in love with aziraphale so he knew that his method would work from experience. aziraphales method was dancing ,which is a method he knew would work from fiction, and which was something he did with crowley in the future from that conversation which shows that aziraphale carried out the method he used on maggie and nina on crowley which sort of shows that he thinks that crowley didnt love him back?? so he does the dancing thing with crowley to make crowley fall in love with him . poor guy is So Oblivious also about how they knew both of their methods would work and that aziraphale's ideas are based off fiction and crowleys are based of experience shows something about both of their characters . aziraphale believes in fiction whereas crowley believes in realism . adn that sort of shows why aziraphale chose to go back to heaven because he still believes that heaven are the good guys and hell are the bad guys but crowley realised that theyre both as bad as each other . and after i wrote all of that i realised that crowley said something about his sudden rain idea being from a movie he saw ,," (this is basically a Paragraph of nonsense)
"oh I jsut had one more thought about this Paragraph . so their methods for trying to make maggie and nina fall in love also show that crowley cant let go of the past which is obviously why he rejects going back to heaven and hell without a second thought but aziraphale looks towards the future and how he could improve things which is another reason he went back to heaven ☝️☝️ hope this helps 👍👍,"(continuing from the previous Paragraph)
"so "you dont dance" sort of shows that aziraphale set up this ball not just to dance but to dance WITH crowley . like he doesnt care about dancing he cares about being with crowley ,,," (when we found out in the dance scene the subtitles say "we don't dance" when crowley actually says "you don't dance")
"crowley gets told "enjoy your last night on earth" adn spends it with aziraphale ,"
"crowley tells nina not to drink herself senseless and have a good cry in an empty flat when thta is probably what he did after yhe Last 15 Minutes"

WHY THIS SHAKESPEARE BOOK THAT MY MUM GOT ME YEARS AGO IS AWFUL
a few weeks ago when i was on holiday we were looking around a town and i saw a pottery shop and i said that i wanted to paint pottery again because i did it when i was on holiday in america last year and it was fun but the pottery place we saw was fully booked so we couldnt do it then . so we went to one after we came home from holiday and i painted a dinosaur (this is getting somewhere i promise) . i got the dinosaur back today because it had to be fired and i wanted to figure out a name for it so fro some reason i looked at these shakespeare books my mum gave me years ago . i didnt get any names from them but i decided to read the much ado about nothing book because we did it in english and it was Awful .
reason one
they cut half of the dialogue from all the scenes??? like i get these books are meant to be short versions of shakespeare stories for kids but .
examples: in act one scene one, they cut most of the dialogue between beatrice and benedick which is fair enough it goes on quite a bit but they didnt include "i know you of old"?? that line is so important to their characters and their history like??? pretty much all of beatrcie and benedicks conversation in act 4 scene 1 was cut as well . all they have for that bit is "Beatrice stood before the altar, tears coursing down her face. "If I were a man, I would make Claudio suffer for what he has done!" she declared. "I love you more than all the world, Beatrice. I can't bear seeing you so upset," said benedick. "I would do anything to comfort you." Beatrice glared at him through her tears. "Then go to claudio, tell him that Hero is dead, and challenge him to a duel!" she said feircely." which is Not Okay . they cut my favourite line of all time- "Kill Claudio" :(. in act five scene four literally EVERYTHING that happens with them between act four scene one and this scene just Didnt Happen . Literally all it says is ""Is there room for another couple in your chapel? I asked Beatrice to marry me last night, and she amazed me by saying yes."" (said by Benedick) which is NOT what happened at all???? also they cut "thou art sad.... get thee a wife!" which is Not Okay because it is my second favourite line ever .
reason two
on one of the pages they had a quote from the play but the quote wasnt even correct??? it said "I do love nothing in the world so well as you: is it not strange?" when the quote is actually "I do love nothing in the world so well as you: is not that strange?" ?? which is just stupid why put a quote from the play if youre going to change it
reason three
the cast list is just weird its supposedly in order of appearence when its really not
reason four
theres a line in this book thats Just Stupid its literally just "Benedick muttered under his breath." like??? what did he mutter???
reason five
the illustrations are just stupid
examples: in act two scene one- the masked ball scene there are illustrations for it where nobody's wearing masks?? thats Just Silly .
also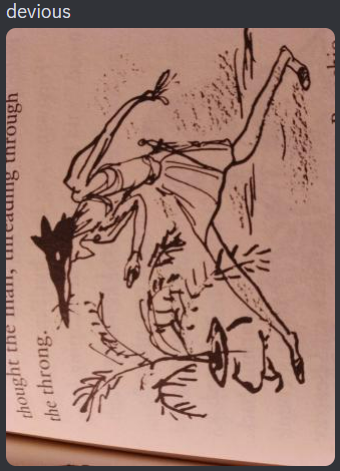 summary- This Book Is Fuckign Stupid 👍
sorry for shakespeare posting its my english teacher, my mums and david tennants fault and the reason i have those quotes memorised is because we did the scenes they're from in english